LWVMA Voting Information for November 3, 2020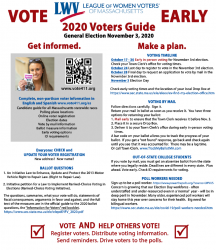 The LWVMA has put together a 
flyer which includes many embedded links and serves as a roadmap for the 2020 General Election
Upcoming Ballot Information
The Wellesley League has co-sponsored several forums to help voters decide who to vote for. If you missed any live events or want to watch them again, here are some useful links (links will be updated after the events have occurred):
** 10/7/2020: Norfolk County Sheriff Candidate Forum: Patrick McDermott (D) versus Jerry McDermott (R)
** 10/14/2020: Norfolk County Commissioner Candidate Forum: Joseph Shea (D), Richard Staiti (D) and Heather Hamilton (I)
** 7/29/2020: Norfolk County Sheriff Primary Forum
** 8/5/2020: Fourth Congressional District Candidate Forum (Forum starts at 22:00)
** 8/6/2020: Wellesley Board of Selectmen Candidate Forum
** 8/17/2020: Norfolk Country "Non-Sheriff" Primary Candidate Forum
Vote by Mail / Early Voting
All Wellesley voters will be able to vote in the November 3, 2020 (General Election) in one of three ways: (1) Vote By Mail; (2) In-Person Early Voting; and (3) In-Person Voting on Election Day. Early voting ballot applications were mailed to all residents in July; if you did not receive an application, go to the Town Clerk's website to apply. Return ballot applications by October 28, 2020 to Elections [at] WellesleyMA.gov or via the US mail or to the Elections & Payments Drop Box in front of Town Hall.
Ballots will be mailed in October and your ballot mut be received in the Town Clerk's office on or before the close of the polls on Election Day. You can return the ballot via the US mail or to the Elections & Payments Drop Box in front of Town Hall. To track the status of your ballot, you can visit the Secretary of State's website  (the site will say "pending" if your request has been received but the ballots have not yet been mailed)
You can early vote in person at the Tolles Parsons Center at 500 Washington Street on
**Saturday, October 17 & Sunday, October 18, 9 AM to 1 PM
**Monday, October 19 to Friday, October 23, 9 AM to 4 PM
** Saturday, October 24 & Sunday, October 25; 9 AM to 1 PM
** Monday, October 26 to Thursday, October 30; 9 AM to 4 PM
** Friday, August 28; 8:00 AM to noon
New Polling Locations
All School Based Polling Locations are moving for the 2020 Elections! For more details, please see Polling Locations Change Evaluation Report and Wellesley Press Release with September 1, 2020 Election Information. Voting Day polls will be open from 7 AM to 8 PM.
** Precincts A (Bates), B (Sprague) and C (Upham) are moving to the Municipal Light Plant at 4 Municipal Way.
** Precincts D (Schofield) and E (Fiske) are moving to the Warren Building at 90 Washington Street.
** Precinct F (Dana Hall) is moving to the Wellesley Village Congregational Church at 2 Central Street.
There are NO CHANGES at the other precincts. Precinct G will still vote at the Wellesley Free Library at 530 Washington Street and Precinct H at the Tolles Parsons Center at 500 Washington Street.
Vote 411
For local (Wellesley) elections, you can learn everything you need to vote by going to Vote411.org. After entering your address, you will learn the specifics about how to vote (election date, how to get a mail-in ballot, the location of your polling place) and you can also read about the candidates and ballot questions, if applicable. Your personalized voting guide will help you:
** See everything that will be on your ballot;
** Compare candidates' positions side-by-side;
** Print out a personalized ballot with your choices to take with you on Election Day.
Are you a military or overseas voter?
Serving in Wellesley Town Government
Wellesley's Town Government relies heavily on volunteers --- those who are recruited, those who are recommended, and those who offer their own services. The appointment of members to various special committees and boards is the responsibility of the Town Moderator and several elected boards. The LWV Wellesley has helped the town develop a form to help those making appointments identify individuals who are willing to serve. Besides the committees listed on the form, there are numerous other opportunities and this form will help in making appointments to those as well. To help residents and prospective candidates and appointees understand Wellesley government, the LWV Wellesley has published a very useful Town Government Handbook.
Town Elections
Debt Exclusion Ballot Question (pending affirmative Town Meeting vote): Tuesday, December 1, 2020
Town Election: Tuesday, March 2, 2021
Each year the Town of Wellesley elects residents to open positions on all the townwide boards: Board of Assessors, Board of Health, Board of Public Works, Board of Selectmen, Housing Authority, Library Trustees, Natural Resources Commission, Planning Board, Recreation Commission, School Committee, Town Clerk as well as Town Meeting Moderator. Town Meeting Members are also elected at this time. The Wellesley LWV has put together a Candidate Handbook for candidates interested in running for town-wide office. Information about running for town elections can also be found on the Town Clerk's website
State and Federal Elections
Primary Election: Tuesday, September 1, 2020 (register to vote by August 22, 2020)
General Election: Tuesday, November 3, 2020 (register to vote by October 24, 2020)
As a result of newly-passed legislation in MA, all residents are now eligible to vote by mail as well as in person. No excuse is required. In-person early voting for the state primary will be held on August 22-28 and for the state election will be held on October 17-30. Read more on the Wellesley Town Clerk's webpage.
All 435 voting seats in the United States House of Representatives, all 160 Massachusetts House seats and all 40 Massachusetts Senate seats and will be up for election in 2020 as well as the presidency of the US. One US Senate seat will also be up for election. In addition, there may be ballot questions for voters to consider.
Register to Vote
Are you registered to vote? Do you want to change your party, your address, your name? Do you need an absentee ballot? To find out how to register to vote, visit the website for the Secretary of the Commonwealth of Massachusetts.
Though you must be 18 years old in order to vote, you may pre-register to vote once you are 16 years old. If you are 16 or 17 years old, you may submit a voter registration form to your local election official, who will then place your name on the list of pre-registrants. You will receive a pre-registration notice by mail, confirming receipt of your application. Pre-registration may be done online, by mail, or in person at any voter registration location (see above).
Guide to Massachusetts Election Reforms
The state LWV has developed a two page voting guide Revised 2016 Voting in Massachusetts. This easy reference outlines the timetable for the reforms enacted as part of the 2014 Election Modernization Law: online voter registration, early voting, and pre-registration of teens, as well as the impact of each on our local leagues.