Want to learn more?
Request a League Speaker for Your Group or Event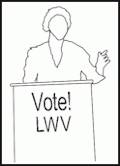 The League of Women Voters has been providing this community education service for over 50 years. While we strive to make this service available to our community at no cost, we warmly welcome contributions so we can expand our outreach.
Here are our current Speakers Bureau Topics:
Amendment 1/CLEAN Missouri

 - Campaign finance reform and redistricting initiative.

Census 2020

 - Why we should count every person in 2020.

Elections and Voting

 - General civics presentation on the process of elections and voting.

Electoral College

 - What is the electoral college?

Initiative Petition Process in Missouri

 - Giving Missourians a vote on critical policy issues.

National Popular Vote

 - The NPV will elect as President the person who receives the most votes in the COUNTRY based on an agreement between the states.

Minimum Wage

 - Explaining the living wage and the new voter-approved initiative to raise the minimum wage to $12 an hour by 2023.

Suffragist History

 - A narrated pictorial history of the Suffrage movement and it's impact and relevance today.

Nonpartisan Court Plan

 - How Missouri picks its judges, what threatens nonpartisan selection, and how to maintain the current court plan.

Voting 101

 - Intro to Voting.

History of Voting Rights

 - The fight for Voting Rights throughout history, how the vote gets suppressed, how it's still happening today, and what we can do about it.

Youth Voting

 - How to engage young people in the civic process.

Youth, Why Vote?

 - A presentation on why voting matters to young people.
ALL PRESENTATIONS ARE NON-PARTISAN.
If you would like to request a presentation, fill out the form below.
The information will immediately be emailed to us, and we will contact you quickly.